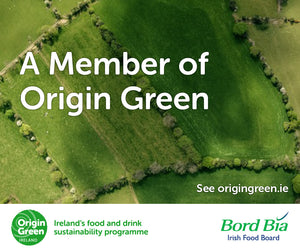 In 2015 we began Bord Bia's Origin Green, Ireland's pioneering food and drink sustainability programme, operating on a national scale, uniting government, the private sector and the full supply chain from farmers & fishermen to food producers and right through to the foodservice and retail sectors. The programme is the worlds' only national food and drink sustainability programme, and enables the industry to set and achieve measurable sustainability targets that respect the environment and serve local communities more effectively. The overall ambition of the Origin Green programme is that Irish food and drink is the first choice globally because it is...
---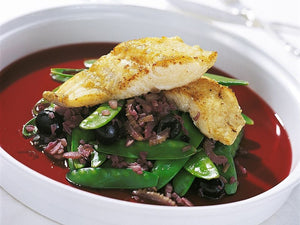 Braised Cod with Red Wine, Green Beans and Black Olives Who says fish and red wine don't go together? Get adventurous with our Braised Cod with Red Wine, Green Beans and Black Olives recipe and you'll be convinced otherwise! Serves 4  Ingredients  800g filleted cod or pollock 1 tbsp flour Olive oil ½ onion  2 cloves garlic  finely diced 1 small celery stick  225g mange-tout/green beans 110g pitted black olives 1 glass red wine A little salt and pepper  Method Season and lightly flour fish fillets Heat oil in a flameproof casserole dish. Fry fish until just coloured, then remove. Add...
---
• Salmon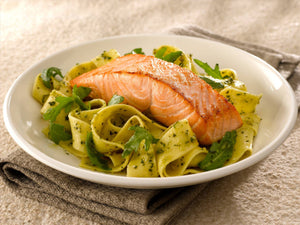 Salmon with Pasta, Pesto and Parmesan Go all Italian for dinner tonight with our fabulous Salmon with Pasta, Pesto and Parmesan recipe. Ingredients  4 portions salmon (180g)  1 tablespoon olive oil  3 – 4 tablespoons fresh basil pesto  1 large bag rocket leaves  350g pappardelle or other dried pasta  A little salt and pepper  Handful of parmesan cheese shavings  Method  Place the salmon in a shallow pan and cover with cold water  Bring to just below the boil and simmer for about 5 or 6 minutes until cooked  Gently lift the fish out of the tray and place on a...
---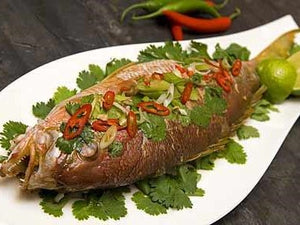 Easy Baked Fish Fillets Baked fish is just perfect for cosy nights in with minimal cooking! Ingredients 1 1/2 pounds white fish fillets Cooking spray 1 tablespoon fresh lime juice 1 tablespoon light mayonnaise 1/8 teaspoon onion powder 1/8 teaspoon black pepper 1/2 cup fresh breadcrumbs 1 1/2 tablespoons butter or stick margarine, melted 2 tablespoons chopped fresh parsley Preparation Preheat oven to 425°. Place fish in an 11 x 7-inch baking dish coated with cooking spray. Combine lime juice, mayonnaise, onion powder, and pepper in a small bowl, and spread over fish. Sprinkle with breadcrumbs; drizzle with butter. Bake at 425° for 20 minutes or until...
---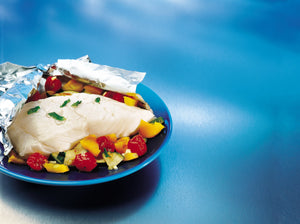 Fish in a Parcel Recipe Dinner for 4 cooked in less than 20 minutes!  Check out this inspiring Fish in a Parcel Recipe. Serves 4 Ingredients 4 x white fish portions, boned. (suits pollock very well) 1 courgette Handful of cherry tomatoes roughly chopped 1 yellow pepper 2 cloves garlic Basil leaves (optional) – torn A little salt and freshly milled black pepper Method • Place fish on chopped vegetables, in the centre of the foil. Season fish, fold over into parcel. • Place in a preheated oven 200C/400F/Gas mark 6 for 15-18 minutes. • Slit bag and slide the fish and...